Keyword competition for MSP businesses can be tough when all the other computer shops are using "computer repair" or "network services," just like you are. But there is a way you can gain a competitive edge.
Long-tail keywords are often overlooked, but they can be the secret SEO weapon you use to get more search traffic. And your competitors most likely won't be using them!
Learn the advantages of using long-tail keywords and how to find them for your IT business blogs and site page optimization.
What are Long-Tail Keywords?
Long-tail keywords are simply longer search phrases that people use to search for things online. They may be 3-4 words or longer.
Many people use longer phrases when they search to help narrow down their results so they're getting more relevant websites to what they need.
For example, the short keyword "computer repair" will pull up any sites that fix any type of computer (Windows or Mac), but it also might pull up articles on how to repair your own computer, and details on computer repair tools.
Whereas the long-tail keyword "computer repair shop for macs" narrows the search to find providers offering repairs for Mac computers, specifically.
Adding any type of city or region to your main keywords for your MSP shop, turns it into a long-tail keyword and can help you gain better rankings in your service areas.
For example, if you're trying to complete for "virus removal" in general, you're going to have a tough time ranking on page 1 or 2 of Google's search results, because you're competing again large firms like Kaspersky, Sophos, Norton, and McAfee. These firms have full marketing teams dedicated entirely to their SEO strategies.
However, if you use the keyword "virus removal in austin tx" instead, the competition is much less steep, and you're competing against local IT providers like yourself, giving you a much better chance of ranking.
How Long is a Long-Tail Keyword?
There's no rule of thumb for the length of a long-tail keyword, but they are generally described as being 3-4 words or longer in length.
A few examples of long-tail keywords in the MSP and IT business world include:
network security for hipaa compliance
computer screen repair near denver
iphone water damage repairs
refurbished surface pro tablet for sale
Basically, to get a long-tail keyword, you're just taking a basic keyword, like "network security," and adding on words to make it more specific.
The Advantages of Incorporating Long-Tail Keywords into Your SEO Strategy
Long-tail keyword use is an excellent way to get a top 1-page search position when it may seem impossible. The trick is finding those niche descriptive phrases that people are using.
Use of long-tail keywords is like going from a basic cheap oil in your marketing engine to one of the high-performance versions. You can see results fairly easily and incorporating long-tail keywords into the titles, headers, and text of a MSP blog post or website page comes naturally.
Easer to Rank / Less Competition
Wordtracker research shows us that the search term "computer repair" gets about 114,319 searches per month and has a competition score of 27.12.
The long-tail keyword "apple computer repair" has less search traffic, 1,064 searches per month, but also much less competition, with a score of 7.96.
So, for those niche searches using longer tail keywords, you've got a much better chance of grabbing a higher search result position.
Let's look at the difference between four keywords, one short and three long-tail. When looking at the competition score, the lower number means less competition.
| | | | |
| --- | --- | --- | --- |
| Keyword Type | Keyword | Avg. Monthly Searches (US) | Competition Score (lower = less) |
| Short | Computer repair | 114,319 | 27.12 |
| Long-tail | Apple computer repair | 1,064 | 7.96 |
| Long-tail | Local computer repair | 1,458 | 6.16 |
| Long-tail | Computer repair columbia sc | 1,340 | Less than 1.0 |
Many people will do keyword searches and automatically gravitate to the most popular keywords with the highest average monthly searches but ignore the competition scores.
If you're optimizing for a high competition keyword, you're spinning your wheels in many cases, because you'll only be able to get so high in the page rankings if competing against large software firms or retailers like Best Buy.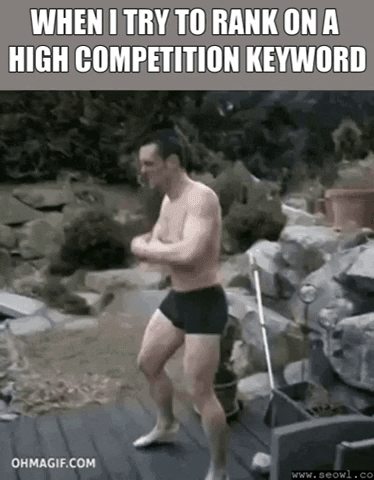 If you optimize for a keyword that gets fewer average monthly searches but has much less competition, you can end up ranking well and earning more customers because more of those searchers are seeing your webpage search result.
Great for Your Blog SEO Strategy
Another common SEO mistake that people make is to optimize all their blogs and service pages for the same keywords. If you use an SEO WordPress plugin, you'll usually see a warning when it detects you reusing a keyword you've used on another page.
Do you really want your pages competing against each other for the same keywords?
Longtail keywords allow you to use best practices for SEO, which is to optimize for different keywords on different website pages. This not only shows Google that you have a robust site with multiple potential keyword matches, you also don't run into the keyword reuse issue.
For example, if you do both Windows and Mac computer repairs, try a keyword strategy like this for your pages:
Windows Service Page: "windows computer repair in austin"
Mac Service Page: "mac computer repair in austin"
Windows-related Blog1: "computer shop for windows repair in austin"
Windows-related Blog2: "windows computer repairs near austin"
Mac-related Blog: "mac computer repair shop near austin"
You get the idea.
When using long-tail keywords, you have a near-unlimited number of combinations you can use to optimize each site page for a different keyword.
Higher Conversion Rate
Long-tail keywords have a higher conversion rate than shorter keywords. For example, the top 10% of landing pages on average, convert at 11.45%. The average conversion rate for pages optimized with long-tail keywords is 36%.
Long-tail keywords bring you more targeted traffic, so it's a way of qualifying a lead during the search process. This means there's a bigger chance that your search listing will be just what the searcher is looking for and they'll be more likely to buy from you.
You Get a Keyword "Twofer"
When you use long-tail keywords, it's not like you're having to make a choice to throw out those shorter keywords and all their tons of traffic. Most long-tail keywords have shorter keywords within them, so you're getting a "twofer" – two keywords for the price of one.
For example, the long-tail keyword "windows computer repair in austin" still uses the keyword "computer repair" inside. So, by optimizing for the longer keyword, you're also optimizing for the shorter one by default.
Take Advantage of Original Searches
A full 15% of search queries on Google are unique and haven't been seen before. Searchers can often string together searches in different ways than what one might expect, and more often than not, these are long-tail keyword searches.
The internet has become such a large place that more specific searches are becoming common. When you use long-tail keywords as a regular part of your SEO strategy, you have a better chance at capturing those new and unique search requests as traffic to your IT business site.
Move Up Faster in the SERPs
The most coveted spot in the search engine results pages (SERPs) is of course on the first page. 75% of searchers never look past the page one results.
Pages that use SEO optimized for long-tail keywords move up 11 positions on average in search rankings, which is more than twice the movement for shorter keywords.
You Gain More Cumulative Traffic
Let's compare optimizing your site for a single short keyword, like "virus removal" to optimizing each page for a different longtail keyword, such as "virus removal in austin," "ransomware removal for macs," etc.
If all your pages are optimized for "virus removal," then you're only going after about 6,283 total average monthly searches for your entire site.
But, if you optimize for a different long-term keyword on just 10 site pages ("virus removal for android," "virus removal in austin," etc.) and each of those longtail keywords averaged 900 monthly searches, you would be positioning your site to go after 9,000 total average searches each month.
70% of search traffic comes from long-tail keyword searches.
So, by using a long-tail keyword strategy, you actually set your site up to be competing for more monthly search traffic overall.
How to Find Long-Tail Keywords for Your MSP Business?
There are several ways that you can find long-tail keywords to use for your web page search engine optimization.
Wordtracker.com
Wordtracker: This is a free tool that allows you to type in a keyword and get multiple similar keywords, along with average monthly search and competition information.
Google Keyword Planner: You need a Google Ads account to use this free tool. It offers competition and average search information along with suggested bids.
Google Analytics: Look for the keywords that users actually use to get to your site and optimize for those. In Analytics, go to Acquisition > Campaigns > Organic Keywords
Listen to Your Customers: What phrases do customers use when they contact you? For example, someone may say "I need a full office virtual migration." Use the terms you find your customers using as long-tail keywords.
How Do You Search?: Take some time with your team to search as a cutsomer for a variety of computer and IT services. How do you naturally search? Use those long-tail keyword searches for ideas.
Make Long-Tail Keywords Your Main SEO Strategy
Long-tail keywords are perfect for local MSP businesses and can help you easily rank well for local searches as well as other unique and original search terms.
How do you incorporate long-tail keywords into your SEO strategy? Share your thoughts in the comments!