If you're not marketing digitally, then you're seriously hampering your IT business's chances for getting more leads and sales. Content marketing to online audiences has overtaken traditional marketing channels.
Now, you need to post content regularly, like blog posts, social media posts, videos, and other content, to drive leads and ensure your target audiences know about your services.
Blog posts are a perfect foundation for your content marketing strategy. From there, you can branch out into creating other forms of marketing that can continue feeding your sales pipeline. Below, we'll tell you how to do it!
Multiply Your Marketing Easily By Using Your Blog
If you've got a blogging strategy, that's great. It's important for SEO to be posting regular content on your website. This lets Google know that you continually add information that could be of interest to those searching IT-related topics.
But, if you're only stopping at your blog, and not expanding into other areas of digital marketing, you're leaving money on the table. Do you remember the old sales prospecting "Rule of 7?" It states that someone needs to interact with your company, service, or product at least seven times before they really remember you.
Even though this adage was around long before personal computers and the internet, it still applies to the sales and lead generation process. The more times a person sees your content online in different ways, the closer they are nudged to a buying decision.
They may run across your website on a Google search for managed IT services, but not yet be ready to choose which company they want to reach out to. Then, a few days later, they see your social media post about cybersecurity. It sparks some recognition.
When your monthly newsletter goes out, they click to watch your video on password tips, and the relationship between your business and that lead is beginning to solidify.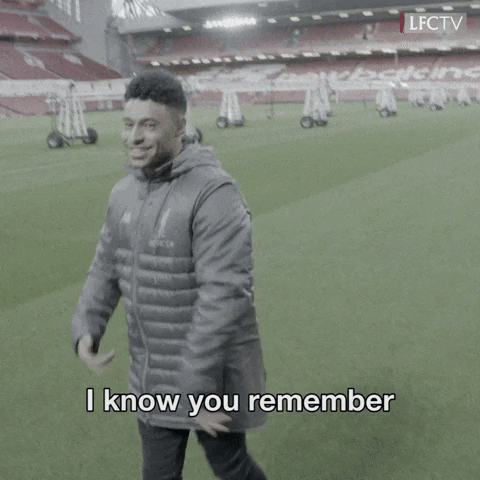 Sixty percent of marketers say that content marketing absolutely generates leads, and 70% note that it helps educate their target audience on their products and services. 81% of them see content marketing as a core business strategy.
Now, creating tons of content in different mediums sounds like a time-consuming task that you might not have time for. After all, you're running your business!
But if you follow our step-by-step tips below, you can start from your blog post as your foundation, and from there, easily expand your digital marketing without having to spend a lot of time or effort.
Step 1: Write (or Have Written) Your Blog Article
First, of course, you need to write your blog post or have it written by an IT business/MSP marketing provider, or someone else.
When the blog post is written, follow best practices to make it simple to translate into other digital content. Some tips for blog articles that are easy to read and easy to convert include:
Use of subheadings to label main points
Use of bullet points
Good use of white space
Short paragraphs (2-4 sentences)
Add in statistics where you can
On average, companies that blog produce 67% more leads per month than those that don't.
Step 2: Summarize the Bullets or Subheadings for a Video
Video marketing is one of the best converting mediums. So, if you create only one other piece of content from your blog post, do a video for the best sales potential.
Here are just a couple of statistics that illustrate the importance of having a video marketing strategy:
70% of people purchased from a company after seeing it on YouTube.
50.9% of B2B decision-makers research purchases on YouTube.
96% of people say they've watched an explainer video to learn more about a product or service.
To translate your blog post into a video, you want to pull the main points. Start by pulling 2-3 short sentences about your topic (each of these will be put on one video slide/frame).
Then, pull out your subheadings to use for one slide each. For example, to create a video about this blog post, each Step listed above in a subheading would be placed on its own slide in the video.
Your last slide should include the call-to-action, such as "Call ABC Computers for Help With This" and your phone number and/or website URL.
Your goal is to end up with 8-12 sentences or subheadings to use for your video content. Then use a video creation tool to position the text you've pulled from your blog post onto a graphic. You can even add music to make it more engaging.
You can see an example of this on Sound Computer's Facebook page: https://fb.watch/aSmxgxNUvf/.
Where to post videos?
On your website
On YouTube
On your social media channels
Link to them in your newsletters
Step 3: Create a 2 Sentence Social Post Linking to Your Blog Article
Next, you want to create a social media post that drives traffic to your blog post. For these, it's helpful if you ask a question and then use a "learn more" or "find out how" with the title of your blog post.
It's a best practice for great blog posts to use an image at the top to drive engagement. This benefits your social posts as well because if set up correctly, the social media channel will automatically display that image along with your blog article title. (See below)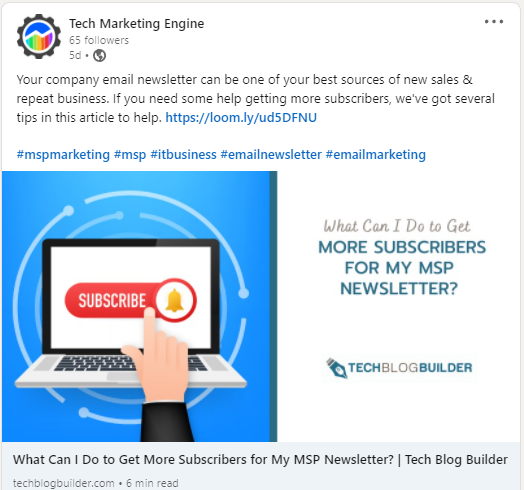 Don't forget to add hashtags to gain more visibility for your posts. You can also save more time by using a social media tool like Loomly or Hootsuite. They allow you to preschedule posts and send them out over all your social media channels at the same time.
Step 4: Use Your Blog Posts to Drive a Monthly Email Newsletter
If you've been scratching your head about what to include in a monthly email newsletter to leads and customers, your blog posts provide the perfect fix for this.
You can add a summary of each of your blog posts that you've posted that month. You only need one or two sentences for your summary. Then link to the blog articles on your website, which will further drive traffic right where you want it, on your site where people can read about your services.
If you have other content that you've created from your blog posts (videos, infographics, etc.), you can use these in your email newsletter as well.
When you base your newsletter around the articles posted on your blog each month, it helps repeat the message of your articles and keeps your name and services in front of your audience. Not to mention, you don't have to come up with a topic from scratch!
Step 5: Pull Statistics or Key Points from Your Blog Post for an Infographic
In our attention-short, digitalized society, infographics have become popular because they provide a lot of data in a short amount of space.
People can often retain information better when it's in a graphic format than when in plain text. And if you've used statistics in your blog post, an infographic is going to be a snap to put together.
You can approach your infographic in two ways:
Use statics from your blog post; or
Use the subheadings from your blog post
The goal is to have between 3-6 "snippets" or facts that can be easily displayed on an infographic.
Here is an example of an infographic explaining the 3-2-1 backup rule from BackupAssist.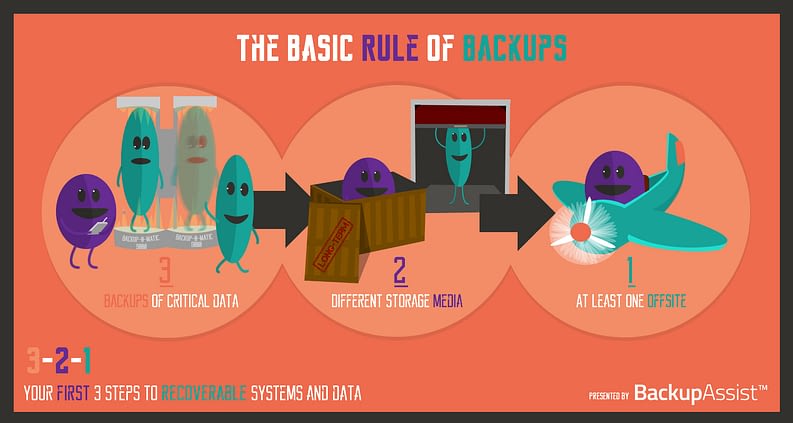 You can find some free infographic making tools in this article, "The Amazing Power of Infographics to Educate & Generate Leads for Your Tech Business"
Step 6: Summarize Your Blog Post in a LinkedIn Article
If you work with a B2B audience, then LinkedIn is a great place to find more leads. It's the number one social media site for businesspeople. LinkedIn allows you to post articles (these are different from your social media posts), and these articles can be searched and read by anyone, they don't need to be a connection.
You don't want to just copy/paste your blog post and post it on LinkedIn, or you could end up with a duplicate content problem. This is where Google sees two identical articles online and doesn't know which one to give higher authority to.
Instead, take a summary from your main blog article. For example, you may want to use a few paragraphs to post on LinkedIn and then add new text to speak to that specific audience. Adding new text and mixing it in with snippets from your post should help you avoid any duplicate content penalties.

Post a LinkedIn article, just choose the "Write article" option of the new post window.
Get Help if You Need It
While using your blog posts to create other content can save you a lot of time, it still does take some effort. If you'd like help with blog posts, videos, and other content reach out to us, and we'll be happy to help.
Get Your Content Marketing to Flow!
Using tips for leveraging your blog posts can help you have a consistent flow to all your digital marketing, as well as save you time while generating new leads.
What types of content do you wish you had time to create? Share your thoughts in the comments!