In today's digital world, it's more important than ever for IT businesses to have a strong online presence. One of the best ways to achieve this is by creating and publishing high-quality blog content that is both informative and engaging.
The goal is to boost your website traffic through search engine optimization (SEO). SEO is what causes your site to come up for a potential customer instead of your competitor's.
But how do you write blog posts that are both SEO-friendly and reader-friendly? In this article, I'll share some tips that will help you get more MSP website traffic that you can then convert into leads and sales.
Checklist for Improving the SEO of Your Blog Posts
Why is SEO so important for an IT business owner? It's the main way that most businesses attract new customers.
SEO drives over 1,000% more traffic than organic social media. Additionally, 76% of people searching on their smartphones for local businesses visit them within a day, and 28% of those searches result in a purchase.
It's unbelievable how many MSP businesses aren't properly optimizing for SEO. Just sprinkling in the word "managed services" everywhere, isn't going to cut it. Search optimization to get to page 1 of Google, is more complex than that.
You can either get a pro to help (like us!) or read on for tips on how to do it yourself. The following is a checklist you can use for improving the SEO of your IT business blog posts.
Conduct Keyword Research
Keyword research is an essential process to identify the keywords and phrases that your potential customers are using to search for IT services like yours. You want to drill down into as many of these as you can and use long-tail keywords.
These are search terms that are 3+ words long, and they have a few advantages:
You have a better chance to rank well for a longer keyword than a shorter one because you're facing less competition (e.g., "computer repair shop for windows in atlanta" vs "computer repair.")
People are often using longtail keywords in their searches, so there are many opportunities
The use of long-tail keywords allows you to more easily use different keywords on your blog posts, rather than the same one on all.
By understanding the keywords people use to search for your services, you can optimize your blog content to target them specifically, increasing your chances of ranking higher in SERPs.
There are several keyword research tools available online, such as:
These tools help you identify the search volume, competition, and relevance of specific keywords in your industry. Once you've identified your target keywords, incorporate them naturally throughout your blog posts.
Optimize Your Headlines
The headline of your blog post is the first thing readers will see. It's crucial to create compelling headlines that entice readers to click and read your content. Additionally, your headline should include your target keyword for that post.
Make sure your headline is clear, concise, and accurately represents the content of your blog post. Using numbers and power words like "ultimate," "essential," or "proven" can also make your headline more attention-grabbing.
Write for Your Audience
One of the most important aspects of creating SEO-friendly blog content is writing for your audience. Your blog posts should provide valuable information that addresses the needs and concerns of your target customers.
By doing so, your readers are more likely to engage with your content, share it with others, and return to your website for future needs. This also keeps them from clicking the "back" arrow a few seconds after landing on your page (something that hurts your SEO).
Good content is king for Google. That means readable and informative. Avoid stuffing your blog posts with too many keywords or writing solely for search engines. This approach can make your content appear spammy and hurt your credibility with readers.
Use Internal and External Links
Incorporating internal and external links in your blog content can help improve your website's SEO. Internal links connect your blog post to other relevant content on your website, keeping readers engaged and on your site longer.
External links to authoritative sources help demonstrate your credibility and improve your website's authority in search engines' eyes.
When creating internal links, choose anchor text that accurately represents the linked page's content. For example, instead of hyperlinking on "click here," use "learn more about our IT support services."
Don't use too many links. For example, you don't want one in every paragraph. It can make your page look spammy and make it difficult to read.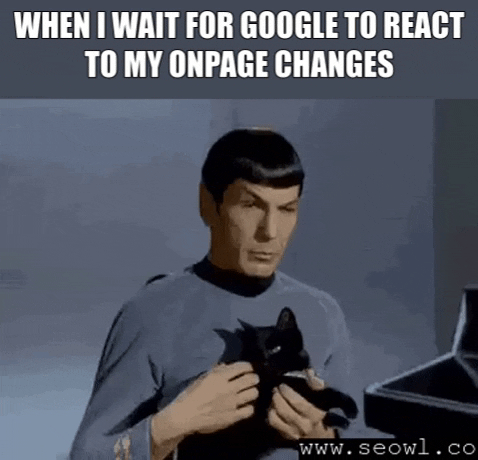 Incorporate Multimedia Content
Adding multimedia content like images, videos, and infographics can make your blog posts more engaging and shareable. These types of content can also help break up long blocks of text and make your blog post more visually appealing.
When using multimedia content, make sure to optimize it for SEO. This means taking the time to use descriptive file names and alt tags that include your target keywords.
For example, if you're adding an image related to cloud backup, don't name the image "header-image5." Instead, use an SEO-friendly name like, "cloud-backup-services," as well as a keyword in the alt image tag (YES, you should add an alt tag!)
Optimize Meta Descriptions
A meta description is a brief summary of your blog post that appears in search engine results. Optimizing your meta descriptions can improve your click-through rate (CTR) and ultimately drive more traffic to your website.
Keep your meta description under 155 characters, include your target keyword, and make sure it accurately represents the content of your blog post. Using action-oriented language like "learn," "discover," or "explore" can also make your meta description more attention-grabbing.
Write Clear and Concise Content
When writing your blog posts, it's important to keep your audience in mind. Use clear and concise language that is easy to understand. Avoid jargon and technical terms that your audience may not be familiar with.
It's also important to break up your text with headings, subheadings, and bullet points. This is a Google SEO best practice and will make your blog posts easier to scan and read. One long block of text can instantly look hard to read and send people away. Using plenty of white space and breaks in the text is much more inviting. You want people to stay on your site long enough to click a contact form or call to action.
Sprinkle Keywords Throughout the Post (but not too many!)
How many keywords are too many for one post? There is no fast and hard answer, but using 1 main keyword and 1 or 2 related keywords is a good plan.
Then, use each keyword between 1-3 times throughout the content – this of course depends on how long your post is. If it's just 500 words, then one time for each of the three keywords should be sufficient. If it's 2,000 words, then you can probably naturally work each one in about three times.
Again, I want to emphasize not to keyword stuff. This means don't put your keywords in every single sentence or paragraph. This is obvious to both your readers and Google, and nobody likes it.
Promote Your Content
Creating great blog content is only half the battle. To get the most out of your efforts, you need to promote your content through various channels. Share your blog posts on social media platforms, email newsletters, and other relevant websites to increase their visibility and reach.
That sharing improves your SEO as well because you're posting that blog post link on multiple other sites (Facebook, Instagram, LinkedIn, etc.)
There are several ways to promote your blog posts, including:
Sharing them on social media
Submitting them to directories
Adding them to your Google Business Profile updates
Emailing them to your subscribers
By promoting your blog posts, you can reach a wider audience and generate more website traffic.
Keep Your Blog Posts Updated
One of the best ways to keep your website traffic up is to keep your blog posts updated. This means adding new content regularly. You can also update existing posts with new information and insights.
By keeping your blog posts updated, you'll show your readers that you're an authority on your topic and that you're committed to providing them with valuable information.
Also, it's a negative if you don't update your company blog regularly. Just imagine what you think when going to a business website and seeing that its company blog was last updated 7 months ago. It reflects poorly on a business and makes it look like it's in trouble and might fail.
On the other hand, having content that is fresh illustrates that your company is vibrant and thriving. Sites that are updated with new content regularly also score more favorably in the search results.
Monitor Your Results
It's important to monitor your results so that you can see what's working and what's not. You can use Google Analytics to track your website traffic and see how people are finding your blog posts.
You can also use social media analytics to see how many people are sharing your posts and engaging with your content.
By monitoring your results, you can make adjustments to your blog writing strategy and improve your results over time.
Help Your Blog Help You by Brushing Up Its SEO
A company blog that isn't SEO-optimized is a huge, missed opportunity. By following these tips, you can write blog posts that are both SEO-friendly and reader-friendly. This will help you get more MSP website traffic and grow your business.
Need some help writing customized SEO-optimized blog posts each month? Contact us for a chat.
What's your biggest challenge related to driving traffic to your site? Share your feedback in the comments!